Formerly referred to as custody, "allocation of parental responsibilities" refers to how parents make decisions concerning major issues for their children. Decision-making may be allocated to one individual solely, to both parents jointly or will be divided between the parents. There are many factors that determine whether it is in a particular child's best interest for parents to make decisions for the child together or separately and which parent's home should be the child's primary residence.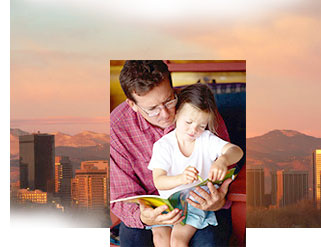 If the parties are not married but have a child together, a Petitioner for Allocation of Parental Responsibilities must be filed in Court instead of a Petition for Dissolution of Marriage. If paternity is disputed, DNA testing must be done.
At The Law Office of Mark Brandes, we engage in a comprehensive analysis of relevant factors for determining how decision making should be divided between parents and what you may realistically expect as a Court order if you are unable to reach an agreement with the other parent.
Likewise, we engage in a detailed analysis of relevant facts to assist you in dividing up parenting time for the child between the parties. Some of these factors include the age of the child, past parental involvement and time commitment to the child, proximity of physical residences of each party and whether there are abuse issues or parental substance abuse issues affecting the child. While Colorado is a "no fault" divorce state, life style and substance abuse issues are relevant as to the child's best interest concerning living arrangements and parenting time.
We guide and assist you in developing parenting plans that not only include decision making and routine parenting time arrangements, but also holiday parenting time schedules, summer parenting time schedules and schedules that incrementally increase parenting time if we are addressing the best interest of an infant or toddler whose needs will change as the child matures.
Parenting Time
Infants
Toddlers
Pre Kindergarteners
Primary School Age
Teenagers
Complex, Multi-State Litigation
The Law Office of Mark Brandes also handles custody matters between different states. Custody disputes can result in one parent filing a case in one state and the other parent filing for custody in a second state. These are complex cases involving litigating in two different states at the same time. We routinely handle these types of custody cases, as well as removal cases where one parent desires to move out of state with the minor child.
Contact Mark Brandes for a free detailed telephone consultation concerning any parental responsibility issue you may have.